Merchandise
Merchandise
DENNISTOUN CHRISTMAS AND NOTECARDS A6 with envelopes no message. We had a photographic competition a few years ago during all that snow and we have two cards of Dennistoun in the snow for sale - £2 for 10 with envelopes - the other card does say Merry Christmas but the one illustrated can be used as a notecard.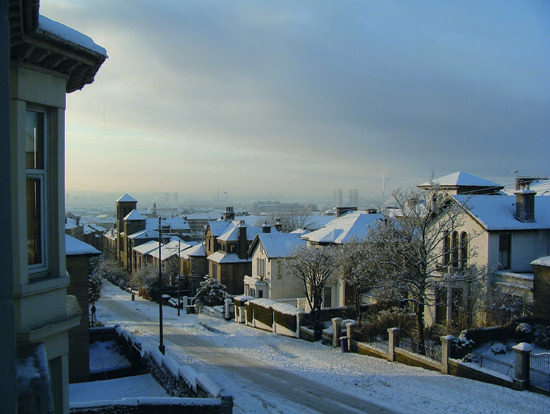 Place your order through our contact form
In addition to our own cards this year we are offering Christmas cards by Dennistoun artist and sculptor Jamie Morrison. Jamie has produced some Christmas themed character sculptures and the card illustrated shows them all on one card. Other cards show individual characters. A5 Christmas cards with envelopes £1.80 each or £6.50 for 5 off. The message reads 'Merry Christmas and a Happy New Year'.
BROOCHES PRODUCED IN DENNISTOUN
See below one of Dennistoun's local stained glass artist Amanda Johnson's recent work and perfect for Christmas presents. Butterfly brooch - £35 Shown here, Flower Power brooch - £28 available in red and dark orange, bright orange and pale blue. Snowflake brooch - £25 Contact Amanda through this website www.embersandlime.etsy.com