Dennistoun Conservation Society
Dennistoun Conservation Society
Dennistoun Conservation Society (DCS) was set up in 2007 with the following aims:
To encourage sharing of information and ideas and maintain a sense of community with all the residents of Dennistoun.
To raise awareness among residents of the importance and fascinating history of Dennistoun as a designated Conservation Area.
To inform residents of their rights and responsibilities when maintaining and improving their homes and gardens.
To apply for grants to help improve the area.
Information and advice has been put together in booklet form by Dennistoun Conservation Society with assistance from GCC Heritage Department to help residents understand what can be done through good design and sensitive maintenance and repair in keeping with the character of the area which includes the gardens as well as the buildings.
Please note that the contact number for TPO given for dealing with trees within the Conservation Area is out of date and should read :
Contact Development and Regeneration Services, 0141 287 8675, or the dedicated e-mail boxTreeEnquiry@drs.glasgow.gov.uk or go to the GCC website.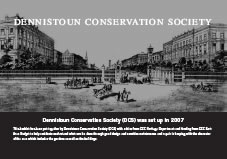 You can download the booklet in pdf format or you can contact us for the paper format.
If your computer does not recognise the pdf document then download the free reader.


View Larger Map