Blackfriars Church
Blackfriars Church


Blackfriars Church Dennistoun
This photograph of the church shows ornament at roof level on the adjacent tenement which is now missing. The image below is of the conversion into flats which included the demolition of the manse shown on the right here and the removal of the tympanum which is displayed on the back wall of the car park behind the church.
The church was designed by Campbell, Douglas and Sellars and built between 1876 and 1877. It replaced Blackfriars church next to the University of Glasgow off High Street which was demolished in the 1870s. The first minister was Thomas Sommerville who wrote a history of George Square based on a series of articles he had published earlier in the 'Evening Times' called 'Meditations in George Square. This book was published by a publisher, Messrs Aird and Coghill, who had exhibited at one of the the East End Exhibitions in Dennistoun.
We have had an enquiry about what happened to the set of five bells from Blackfriars Church tower when it was converted into flats. They were one of the few complete sets cast by Gorbals Bell and Brass Foundry. If anyone can cast some light on the matter please get in touch.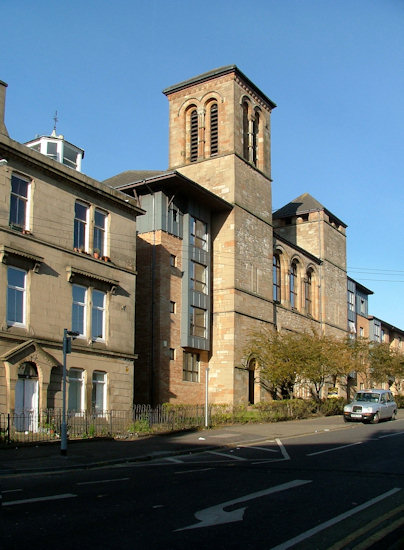 View Larger Map